Original Oil Paintings by Amanda Fish
"Bountiful" - oil 8"x16" - Sold
EVENTS AND SHOWS
"Holiday Treasures," Debra Huse Gallery, December 4 - January 4th.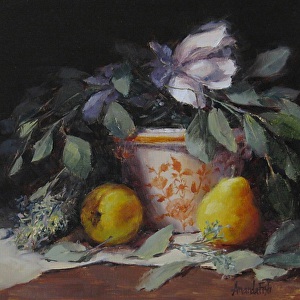 "Cascading Melody," oil 8"x8" - Available
"Six Inch Squared," Randy Higbee Gallery, December 6 - December 23.
"Orange Patina," "Blooms in Dragon Vase," and "Holiday Dazzle" are in this annual fun show!
GALLERY REPRESENTATION
"Pears on Burlap," oil 9"x12" - Available
All images are copyright by Amanda Fish. Contact artist for permission to use.